Today was a milestone day in Iras life, she walked over 4K with no tantrums.
We woke up around 7AM since it was an off day for the kids owing to Janmashtami. The kids got ready with us and we decided to drop Sonali at her office as it would be chaotic in the evening owing to the dahi-handi related crowds on the road. Once we had dropped her off we decided to go to the Bata store at Belapur, buy a pair of bathroom slippers for Ira and come back. She had been asking for one since we got a pair for Ria last week so this was kind of on the agenda. On the way I asked the kids "do you want to walk from the "dudu wala cold drink shop to the shoe store? I'll get you lollipops for having on the way". It was greeted with an excited and unanimous "yes yes". It was pleasant weather, not raining and clear skies. So we went and parked in the parking lot near Seawoods Estate. Took Rias' raincoat and an umberella just in case it started raining. Got the lollipop stock from one of the stores next to the gate and set off. Ira and I have been doing this circuit fairly frequently of late. If she wakes up at 5:30 with Ria she insists on going out with us to drop Ria off at school. So instead of running after I drop off Ria I go walking with Ira on this route. With an air of a pro she starts pointing out the familiar landmarks to dida… "dekh yeh horses ka ghar hai, potty ka smell aa raha hai naa?" "yahaan is lake mein samingos hote hain" (her word for Flamingos)… as she's walking she tries to pass on acquired gyaan as well "dida agar hum log walk karte hain to hamari tabilat theek rehti hai, meri bhi, dida ki bhi, mamma ki bhi aur papa ki bhi… haan walk karna chahiye"…. then we reached the entrance to the forest she points it out and says "yahaan monkeys hote hain, yahaan dida ko gira diya tha monkey ne, iske andar nahin jaayenge"…. so on and so forth…. in the process three lollipops stumbled out of her mouth.. one every time she opens her mouth to give gyaan without first securing the lollipop…. Ria tells her the story of the greedy dog with the bone….
We reached a patch of the service road where it narrows down to a single lane and there's a bit of slush in the usable section of the road…. carefully we navigated through but shoes were all mud caked. Ira promptly attempts to clean her shoes on my feet (I was wearing my floaters). Anyway we get to the end of the service road and then timing the signal properly cross the main road. As we are reaching the Bata showroom finally Ira starts showing signs of getting tired so we gave her a little bit of a pep talk about slippers and she's fired up again. We reached the block which houses the Croma and Bata stores and realized we reached a tad early as the Bata store is not yet open. So Ria gives a bright idea "lets go into the Croma store and look at stuff there while we wait for Bata to open"…. I asked the Croma guy who was opening the store "when does Bata open?" says "11AM"…. we are about 28 minutes early. So I look at the two eager pair of eyes wondering "what now?" and think "ok that's going to be a bummer Ira is going to get a little cranky if we do not get the slippers"…. then I ask them "do you girls want to walk back to the car, pick up the car and then drive back here, the Bata store would be open by then"…. a very emphatic "No we'll wait here" comes from Ria. Then I spring the camouflaged option "how about we walk a little more to the MacD, get something to eat… this store will be open by the time we're done at MacD"…. "YES! YES!! MacD MAcD"…. so that's what we do…. had I asked them to walk more they would've cribbed…. you need to be very tactical about such things…. both of them walked without an issue….
At the MacD we got us a Pancakes meal with a chocolate milkshake, hashbrown with an egg-cheese burger for the kids and a filter coffee for me. They insisted on sitting on the bar stools rather than the low seating sofa…. a relaxed leisurely 45 minute affair… 11:19AM we start heading back after visiting the wash room and ensuring bladders were ready for the walk back… The Bata store was open this time, they were busy removing the sale stickers and decorations apparently sale ended last evening. We go up to the kids section Ria spots the slippers that we eventually buy…..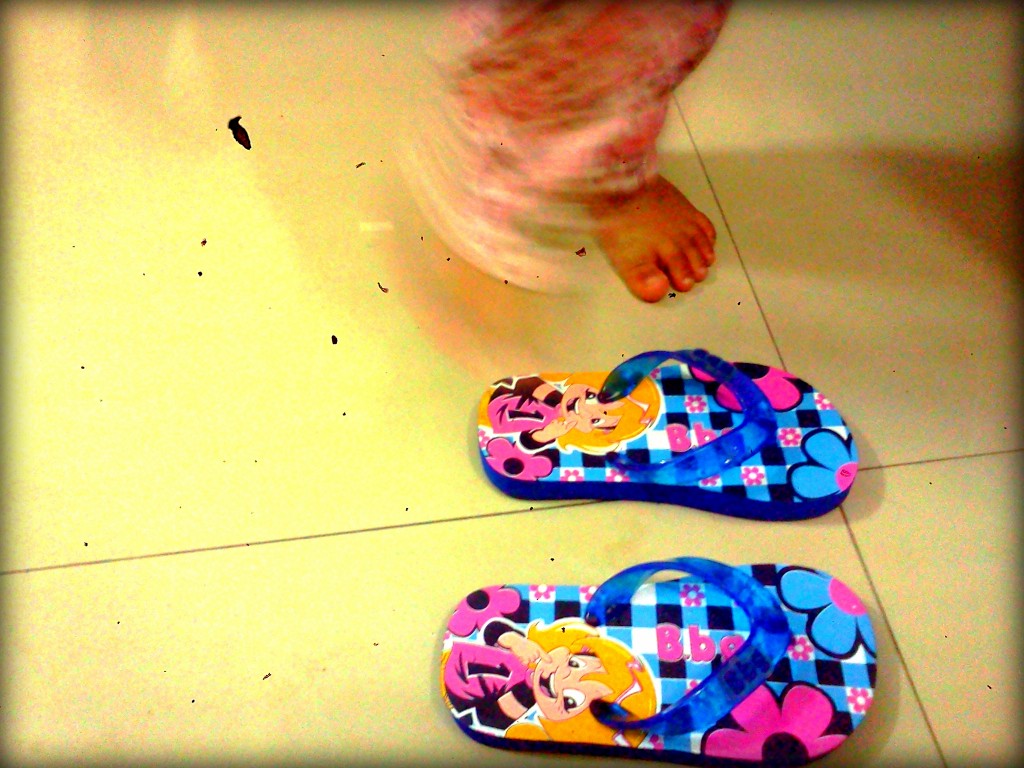 super excited kids now as they can't wait to break into the slippers at home…. they practically ran all the way back racing with each other…. this service road is a blessing in that manner… not used by any vehicles so kids can be free… of course within limits…. I still had 2 lollipops left over which they worked through on the way to the place where we had parked our car…. Ria was very thirsty by the time we reached the car and wanted to keep walking to the shop so we could buy a bottle of water…. but I somehow bundled them in and drove off…. stopped at the shop on the way out of the parking lot… got a couple of lollipops and a bottle of water as they vociferously shot down the suggestion that we could have cold drink if they wanted it (yeah strange kids they do not want cold drink)….
Back home by 12:20 I suggested they get a massage from Kullu aunty before having a bath… Ria agreed to that Ira was too excited to bother with a massage…. she has never liked the idea of a massage all along. Lunch went down pretty easy and then Gauri, their friend from A802, came over…. I was in my room upstairs but from the sounds it was a happy bunch of kids playing, telling stories etc. etc.
In the evening around 6:15P we left to pick up Sonali from her office (it being dahi handi day the roads would be overflowing with rowdy idiots and SG didn't want to take a chance driving in that sort of drunkard infested traffic)… Ira slept off around 6:30 just as we were reaching office…. long day longest walk so far…. it was a total of 4.46Km. Broken up with the almost one hour break (MacD and Bata) but even so I think commendable job for a 2 year 4 month old. I don't want to turn them into any sort of athletic freaks, I just want them to make healthy choices in life. That they choose to run marathons or whatever is up to them all I can or want to do is to introduce a respect for the active life…. So yeah big day for a small kid….